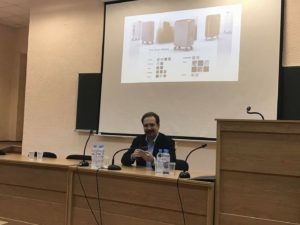 On December 21, 2017 the Kostroma State University hosted unique lecture on «future economy and technical progress», given by Kirill Ignatiev, who was invited by the Institute of Professional Development of KSU.
The lecture "Future economy and technical progress" was about formation of ideas about development of the economy over the next 15 years as a key environmental factor that determines development of science and higher education.
The lecturer – Kirill Borisovich Ignatiev, Chairman of the Board of Directors of"Russian investments" company, President of the Foundation "Pride of the Motherland", the coordinator of the project "Technical progress and future economy." Under this project, the analysts interviewed, conducted a survey and communicated with the world's leading experts in the various fields of science and technology. This information is then processed in terms of economic forecasting and forecasted implementation in the mass consumption of appropriate technique and technologies.
After the lecture there was a workshop on implementation of projects in the field of composite materials and IT projects.
The rector's office employees, the employees of the University, the directors of all KSU institutions, the representatives of the Chamber of Commerce, the Department of Economic Development, Trade and Industry, the Association of KSU business partners have taken part in the meeting.